DOWNLOAD SHRSPUR2.ZIP NOW (for 32-bit Operating Systems)

"MxrSpur II " The BEST way to do spurious analysis
MxrSpur II, Released June 2006 For Windows '98/2000/NT, Millennium, XP, VISTA*:
Price $99.95. (no shipping charge with eMail update)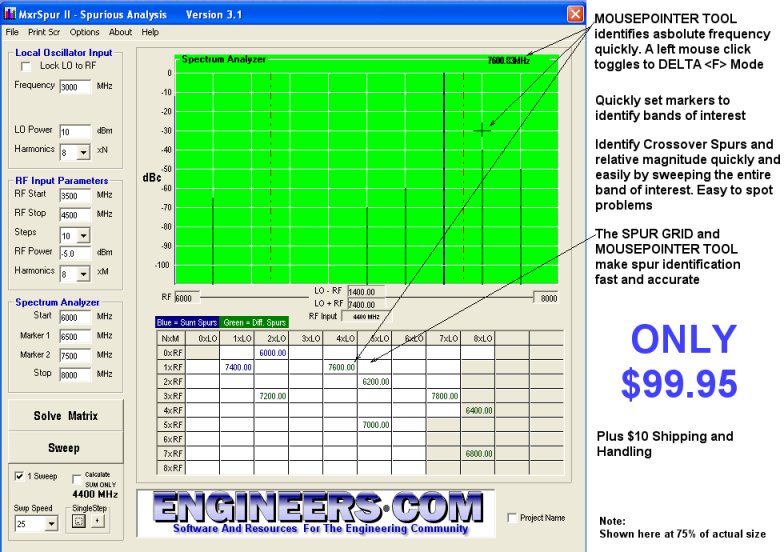 Prior MxrSpur Owners, Contact Sales@Engineers.com for a discount code and save $49.95 (original MxrSpur price).
NEW FEATURES FOR MXRSPUR II (Released June 2006)

Able to Lock LO to RF for Tracking Mixer Problems (Constant IF Mixer problems)
Improved "Print Screen" Function, new printouts fill the page
Added file Management: Load, Save, Delete working files
Working Project shown in Title Bar of program to aid in file management
Improved Spur Display, now up to 8x8 spurious shown
Larger Spectrum Analyzer Section, 300% larger in visible size
Create and share files with other users (note, remote users can download the Demo Program (ShrSpurII) and view your working files for collaborative engineering!)

STANDARD FEATURES (Same as original MxrSpur program):

QUICK AND EASY TO UNDERSTAND PROBLEM SETUP
CONVENIENT WAY TO DISCUSS SPUR PREDICTIONS IN TECHNICAL MEETINGS
QUICKLY FINDS THE PROBLEM, THEN HELPS FIND THE SOLUTION
INSTANT DISPLAY OF SPUR LEVELS VERSUS LO & RF POWER LEVELS
BUILT-IN TUTORIAL GETS YOU "UP AND RUNNING" FAST
STANDARD HELP FILE AND BUILT IN "QWKHELP" ON CONTROLS

Partial List of Customers


Download a trial copy today ( Please Note: The LO Frequency Control is DISABLED in the trial version, however all the other functions work. Trial copy will load and run MxrSpurII files created with registered version of MxrSpurII
Update to full function version by email after trial download. Save $10 shipping and handling (about 300kbyte file attachment to your email). Please note on your order form that you want an E-MAIL UPDATE ONLY.
Windows '95/'98/NT, XP, 32-bit Operating Systems with about 4mbytes free disk space.
Check out a "Microwaves and RF Magazine" Article about our original MxrSpur program (Allen Conrad - Technical Editor)
Check out Self-Running DEMONSTRATION files of MxrSpur II
Trial version is about 4.3mbytes in size

DOWNLOAD SHRSPUR2.ZIP NOW (for 32-bit Operating Systems)

CHECK OUT MxrSpur comparison of PROGRAM PREDICTIONS versus some popular mixers (Adobe Acrobat File, 20 kbyte)